Joey Bragg is cast as
Sticky
in Bits & Pieces.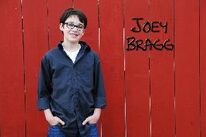 Biography
Edit
Joey Bragg is a 16 year old, actor and commedian. He can be seen as Magoo in the Nickelodeon movie Camp Fred. Joey was also cast in the Disney XD show Gulliver Quinn with Jon Heder and liv & maddie, and can be seen in the Xbox video opposite Kevin Hart. Winning many stand-up comedy copetitions, he opens for high profile comedians such as; Tim Allen, Jeffery Ross, Nick Swardson, Rich Vos, and Hal Sparks. He is now cast as Sticky in Bits & Pieces.
Ad blocker interference detected!
Wikia is a free-to-use site that makes money from advertising. We have a modified experience for viewers using ad blockers

Wikia is not accessible if you've made further modifications. Remove the custom ad blocker rule(s) and the page will load as expected.